Rafiné Moreno-Jackson, MD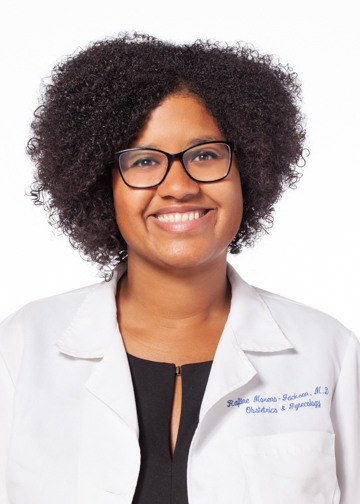 Position
Physician/ObGyn Doctor
Place of Birth:
San Juan, PR
Licensure and Board Certification:
Licensed in State of Florida
Licensed in State of New York
American Board of Obstetrics & Gynecology
Work Experience and Education
Work Details:
Dr. Rafiné Moreno-Jackson's dream has always been to work with and for women. Since she was a kid, she was deeply interested in women's health, their empowerment and rights. Growing up in the Caribbean island of Puerto Rico, she quickly learned that a lot needed to be done to have a medical community that would listen to women and care for them in a honest, knowledgeable, loving way. This is what she will do at the Miami Center of Excellence. Her interests include prenatal care, general gynecology and gynecologic surgery. After moving to New York for her ObGyn residency training, she also became interested in being able to serve and treat Hispanic patients by making them feel at home since she is able to communicate with them in Spanish. Dr. Moreno-Jackson completed her Obstetrics and Gynecology training at Maimonides Medical Center in Brooklyn, New York and medical school at San Juan, Puerto Rico.
Prior to entering medicine, Dr. Moreno-Jackson finished a degree in Biology and Anthropology with a special love for bees. She did research for more than 3 years on the behavior of honeybees in Puerto Rico, something that made her fall in love with nature. She grew up traveling around the world to do voluntary work and has visited a total of 48 countries. Dr. Moreno-Jackson is married to her wonderful husband Favio and they have a 2 year old daughter named Naria Mia. She enjoys riding her bike, swimming and going to the cinema with her husband.
She is fully bilingual in Spanish and English.
---
Education:
Residency: Obstetrics and Gynecology at Maimonides Medical Center. Brooklyn, NYC.
Medical School: Doctor in Medicine at University of Puerto Rico, Medical Sciences Campus.
Undergraduate: Double major: Biology and Anthropology at University of Puerto Rico, Rio Piedras Campus.