Who are we?
Our Philosophy of Care:
Every woman is unique and special. We want our patients to look upon us as their partner in good health; live life to the fullest, enjoy their relationships and feel good about themselves.
Our patients are special people!
We want you to be a part of our family. – Dr. Randy Fink
Redefine your shape with SculpSure®
Hurricane Irma Warning
Dr. Fink would like to inform all patients and expectant mothers that there is currently a hurricane tracking towards South Florida. Therefore, we are advising everyone to watch your local news and take all steps to protect your family and possessions.
If a hurricane warning is declared for South Florida, please follow the guidelines from Baptist Hospital on how to prepare and deal with the storm.
MEET THE TEAM
Randy A Fink, MD
Medical Director and Managing Partner of the Miami Center
Dr. Fink is Medical Director and Managing Partner
of the Miami Center of Excellence for Obstetrics
& Gynecology.
Isalis Sánchez-Peña, MD
and Medical Geneticist
Dr. Isalis Sánchez-Peña was born in Humacao, PR.
She attended University of Puerto Rico and completed
her bachelor's degree in Biology, graduating
Summa Cum Laude.
Stephanie Fink, MSN, NP, CNM
Stephanie graduated from the nurse midwifery program
at the University of Miami in 2011. Stephanie has also been a
Women's Health Nurse Practitioner in private practice for
over 15 years and prior to that she was a labor &
delivery nurse for 3 years.
Alejandra Turmero-Angel, MD
Dr. Alejandra Turmero joined the Miami Center of
Excellence for Obstetrics and Gynecology in 2010.
Board certified by the American Board of Obstetrics
and Gynecology and is a fellow member
of the American Congress for OB/GYN
Arin Semel-Saldana, MD
Dr. Arin Semel obtained her undergraduate degree
in biomedical engineering from Northwestern University in
Chicago. During that time she worked as a MCAT course
instructor specializing in organic chemistry and physics.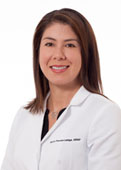 Marilyn Penuela-Ladaga, MSN, FNP-BC
Marilyn is a board certified family nurse practitioner who
specializes in women's health. She earned her Master's of
Science in Nursing from Barry University in 2011.
Jaclyn Marie Ferro, MD
Graduated from St. Matthew's University School of Medicine
where she discovered her passion and her calling
for women's health.
Dr. Ferro completed her residency training in Obstetrics and
Gynecology at SUNY Downstate University and Kings County
hospital in Brooklyn, NY where she was awarded the
position of Administrative Chief Resident.
Liana Baixauli MSN
ARNP, FNP-BC
Education: Bachelor of Science in Nursing
and Master of Science in Nursing
University of Miami
WHAT OUR PATIENTS SAY ABOUT US
Dr. Fink is top notch and I highly recommend him. Trust me, you won't be disappointed!

Let me just say - If I could give 10 stars, I would. Simply put, I love everyone that works here. The midwives, nurses, and staff are all friendly and professional.

Everyone I encountered here from the nurses to receptionists were upbeat and friendly. The office itself was clean, modern, and pleasant. I would definitely recommend the Miami Center of Excellence.

I've been coming to the office for 5 years. I switched over because my previous doctor couldn't figure out how to control my period. Dr. Fink was able to remedy my situation right away.